Chronic kidney disease
Chronic kidney disease is a condition where your kidneys gradually lose their ability to function correctly. It may advance to the point where you will need dialysis. Although chronic kidney disease is irreversible, it is treatable.
Dialysis is the medical term for removing the waste and extra fluid from your blood that your kidneys are no longer able to remove themselves.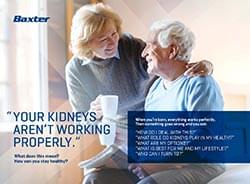 Download the Your kidneys aren't working properly brochure for additional information about kidney disease.
Peritoneal dialysis is one of the two main types of dialysis. It is more like your regular kidneys, since fluid removal is done continuously and happens inside your body.
How peritoneal dialysis works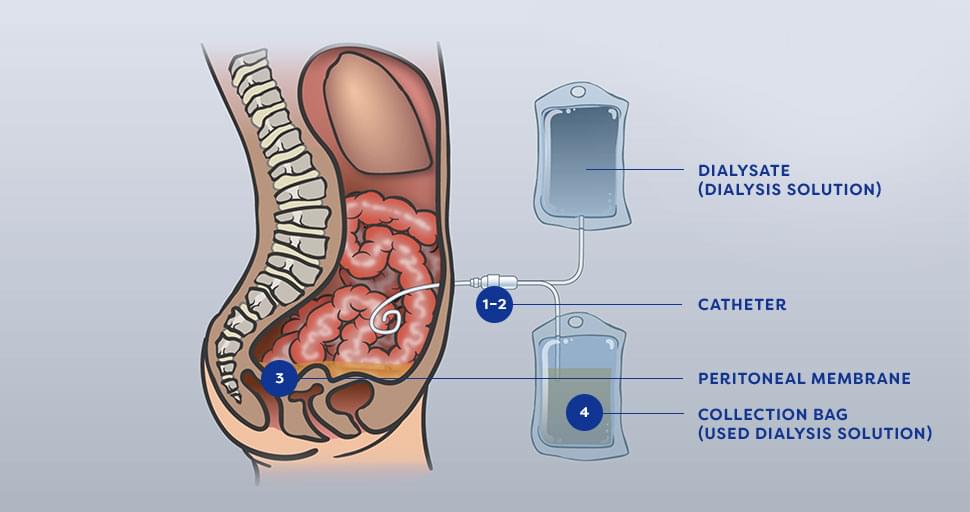 Peritoneal dialysis uses a special solution called "dialysate" and your own peritoneal membrane—the lining of your abdomen—as the filter to clean your blood and remove excess fluids.
1
A peritoneal dialysis catheter is surgically placed in the abdomen.
2
The catheter is used to fill the abdomen with dialysis solution.
3
Waste from the blood and bodily fluid passes through the peritoneal membrane (the filter) into the dialysis solution.
4
Used dialysis solution is then drained out through the catheter into a collection bag.
Did you
know?
Peritoneal dialysis may help you keep your remaining kidney function longer than hemodialysis.
Dialysis—when and where it suits you
Peritoneal dialysis is performed at home by yourself, a family member, or a friend. You learn to do and manage your own treatments.
A nurse will train you on the treatment steps for about one week
You will not do dialysis from home until you and your training nurse are confident that you or your caregiver can perform the treatment successfully. A peritoneal dialysis nurse is on call 24 hours a day if you need any help. You will still have appointments with your nephrologist. If you have questions, or need help with your equipment and supplies, your social worker, nurse, dietitian, and technical support will always be just a phone call away.
Treatment schedule flexibility
Peritoneal dialysis can be done in four daily sessions of 30 minutes or a single overnight session, all in the comfort of your own home. This flexibility allows you to schedule your treatments around your lifestyle and daily activities.
What is hemodialysis?
Hemodialysis, the other main type of dialysis, filters your blood outside your body using a machine and a manufactured filter, called a dialyzer. This dialyzer acts as an artificial kidney.
Hemodialysis is usually performed at the hospital or in a dialysis clinic.